Febuary 2009
IBIS exhibits the Smart-binder SB-3 at Hunkeler Innovation Days, Lucerne 16 – 19th Feb 2009
We are pleased to announce that a Smart-binder SB-3 will be exhibited at the Hunkeler 'Innovation Days' exhibition in Lucerne this month, in cooperation with Buhrs and Hunkeler.
https://innovationdays.hunkeler.ch/
The IBIS SMART-BINDER SB-3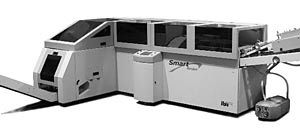 The system will produce personalised insurance documents using our unique ISG glue-binding process. ISG glue is an ideal binding method for insurance policies because the binding is stronger than wire stitching which prevents pages being removed or tampered with. Also, an ISG cold-glued book lies flatter than wire-stitched books, which makes them easier to insert into an envelope.The Smart-binder SB-3 will be fed directly from a Hunkeler roll unwinder and cutter.
We will be showing for the first time an in-line link between the Smart-binder and a Buhrs BB700 mailing system. The ISG cold-glued and trimmed insurance documents will flow directly from the Smart-binder SB-3 into the BB700 Pocket where insert sheets will be added. The BB700 will then place the personalised 'set' into an envelope for direct mailing.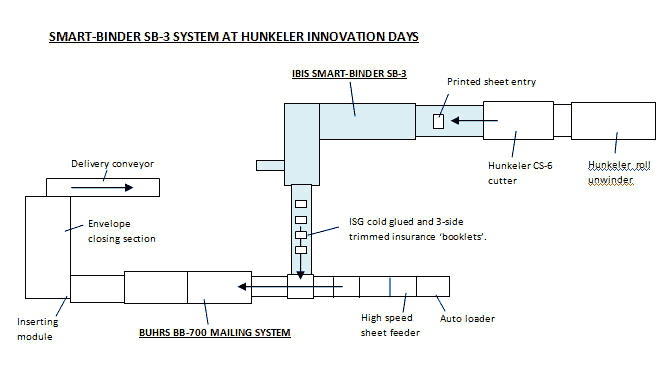 If you are planning to attend Innovation Days and would like arrange a meeting there to discuss the Smart-binder and book finishing solutions for digital print, then let me know. I look forward to seeing you in Lucerne.
yours sincerely
John Cracknell
Managing Director
IBIS Bindery Systems