January 2009
IBIS ENHANCES CUSTOMER SERVICE
To ensure our customers obtain maximum value from their investment in an IBIS product, we are committed to providing ongoing product support. To this end, from January 2009 onwards we are enhancing our product support in the following ways:
1/ Additional IBIS customer support technicians
We have recently recruited new IBIS field-technicians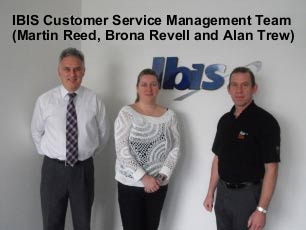 which will enable us to better react to requests for customer visits. This increases our IBIS Service team to a total of five international field technicians who will be available to visit customer sites.
2/ Additional Customer Service management
To be able to better communicate with our customers who have purchased Smart-binders, we have appointed Alan Trew in the role of Customer Service Coordinator (Senior Product Specialist) to assist Martin Reed in managing the IBIS Customer Service team. Alan is an expert on the Smart-binder system. Henceforth he will provide valuable telephone technical support, and also arrange for emergency customer site visits, scheduled maintenance, or additional training, as required.
3/ Emergency Telephone 'Hot line'
We are setting up a new emergency technical support hot line. This will give out-of hours tech support, in addition to speeding up our tech support response during normal office hours.
4/ Training
It is essential that every customer (and/or product distributor) receives comprehensive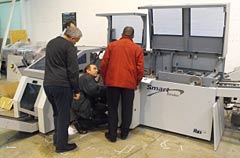 Smart-binder training so they can look after the machine in normal production usage. We have therefore set up an enhanced training facility at IBIS UK, which includes a stock Smart-binder and a training room. A 5-day intensive training course at IBIS's new training facility in the UK, will be offered with each new machine sale. "Refresher" training for existing Smart-binder users will also be made available.
5/ Scheduled Maintenance Program (SMP)
We believe that every Smart-binder customer would benefit from a planned visit by an IBIS specialist technician every 3 -6 months. This will enable us to check the machine is adjusted correctly, fit any performance upgrades, carry out scheduled maintenance and provide additional training . In this way we can ensure that our products are working well and continue to meet the end-user's needs over an extended time period. Scheduled Maintenance (SMP) for the first 12 months will be part of our new Support Package offered with each new machine sale in future,
6/ Product testing before shipment
Many of the Smart-binders which we supply are fitted with modifications to meet customer special-requests. All customers want their machine shipped as quickly as possible, which has sometimes in the past caused us to reduce the required machine test time before shipment. In future, if special engineering modifications are needed, then we will insist on adequate testing time at IBIS before shipment to the customer . If the Smart-binder includes special modifications then we will invite every customer (and/or reseller) to visit us and approve the machine before shipment.
7/ Enhanced Spare-parts supply
In the past we have relied on our machine manufacturer in the UK, to provide all spare parts for us. We have now changed this process. Henceforth all spare parts orders should be sent directly to Brona Revell (brona.revell@ibis-bindery.com) at IBIS, UK. Brona is our new Office Manager and will personally ensure that all emergency spare parts orders are dispatched on time.
The initiatives listed above will be packaged together in the form of a special new Smart-binder Support Contract which will be offered to all existing and new Smart-binder users. We will offer a 'Gold Service' 12-month Support Contract with each new Smart-binder sale, to cover the critical first year period after Smart-binder installation, and future years.
We are committed to providing what our customers require from us and look forward to strengthening our communications with each Smart-binder-user in future.

Don't hesitate to contact Martin Reed ( Martin.Reed@ibis-bindery.com) or Alan Trew (Alan.Trew@ibis-bindery.com) on + 44 1494561950 to discuss further how we can best support each other.

yours sincerely
John Cracknell
Managing Director
IBIS Bindery Systems