We recently received news from a Financial printer in the USA who recorded their best ever year with 216 million letter size pages through a single Smart-binder in 2009. These figures show how the build quality, reliability and productivity of the Smart-binder shines through even under the heaviest of industrial loadings.
We constantly strive to improve the specification and performance of our range of equipment, and we are pleased to announce that following the completion of recent trials, the minimum paper weight for the Smart-binder (without having to double-fold each sheet ) has been reduced from 60 to 49 gsm (13lb bond). This major improvement further extends the range and type of work that can now be fed through the Smart-binder.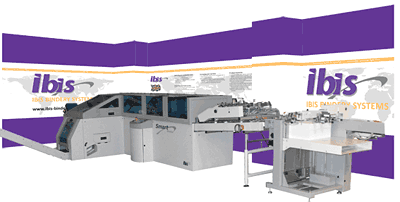 The Smart-binder was once again "on parade" at IPEX last month producing both saddle stitched and ISG cold-glued booklets at 1200 pages (300 sheets) per minute, and up to 200 pages per book.
At those high speeds, you will understand that we produced a large number of sample booklets, some of which were given away on the stand, the remainder of which are now available as samples for prospective customers.
If you would like to know how the IBIS Smart-binder can handle your binding requirements, or would like to receive literature and samples from the Smart-binder, please do not hesitate to contact your local IBIS team member shown below.


Yours sincerely,