March 2009
Smart-binders exhibited at International Trade Shows
Innovation days
Last month, February 2009, a Smart-binder SB-3 was shown at the Hunkeler Innovation days Show in Lucerne
https://innovationdays.hunkeler.ch/.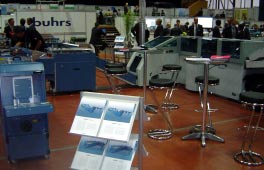 This SB-3 was fed from a Hunkeler roll unwinder/web cutter and produced A4 ISG cold-glued booklets with a separately-fed colour cover.
This was the first time that an SB-3 has been shown linked in-line to a Buhrs BB700 mailing system to combine the glued booklets with other documents into an envelope.
A video of the system in operation during the Innovations show is available on our download page or on YouTube.
https://www.ibis-bindery.com/downloads1.htm or https://www.youtube.com/watch?v=o7wCGADE7jY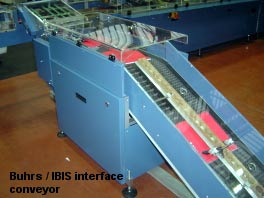 We were pleased to meet many of our partners and customers at Innovation days, and to make valuable new trade contacts from around the world. The IBIS Smart-binder was the only saddle-binding system at the show which ensured we received lively interest. The exhibition has resulted in a number of sales opportunities for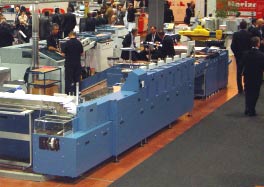 Smart-binder connected in-line to mailing systems.
On Demand

Our next exhibition is the On Demand show, March 30 to April 2 2009, Pennsylvania Convention Centre, Philadelphia, USA. Here our US sales partner, CP Bourg Inc. will exhibit the Smart-binder fed directly from a Lasermax unwind and cutter and producing recipe booklets containing 128 pages plus separately-printed cover.
I look forward to seeing you in Philadelphia.

yours sincerely
John Cracknell
Managing Director
IBIS Bindery Systems