Synergy is defined as the interaction of two or more forces in such a way that their combined effect is greater than the sum of their individual effects. It is a word that is often misused in the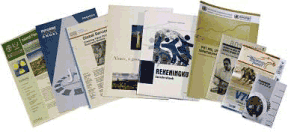 print industry, but we believe that it is properly applied when adding an IBIS Smart-binder directly to the output of a digital printer.
Whilst the digital printer clearly adds value to the raw paper by adding an image, and the binder in isolation adds value to loose sheets of paper by mechanically joining them together, it is when they are used together that they produce books and booklets which have commercial and utilitarian value far beyond the cost of the raw materials.

IBIS are pround to announce that during the forthcoming Graph Expo exhibition in Chicago they will be demonstrating the IBIS Smart-binder on the Infoprint booth # 2017 running in-line with the Infoprint 5000 colour printer.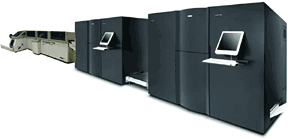 This combination of printer and binder will admirably demonstrate the quality and productivity of finished booklets that can be achieved by adding an IBIS Smart-binder directly to the output of a digital printer
The same quality of finish can be achieved whether you run directly from a web printer (with sheet cutter), from a sheet printer, from an unwinder (with sheet cutter), or from a pile feeder.

The IBIS Smart-binder can be specified with a vast array of options to tailor a

finishing line that exactly meets your requirements to maximise the added value.

If you are planning to visit Graph Expo in Chicago later this month, we would welcome the opportunity to meet you on the Infoprint booth # 2017 and demonstrate the IBIS Smart-binder to you. Alternatively you are invited to contact any of the team listed below to make alternative arrangements to discuss how the IBIS Smart-binder could add value to your business .
We look forward to talking with you in the near future.


Yours sincerely,