Following extensive research we have finally been able to find a product with more options than the Smart-binder.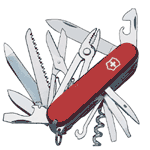 The Swiss Army knife has become synonymous with the concept of one tool with many uses.
In the same way the Smart-binder has become recognised as a benchmark by which other bindery systems are judged.

In addition to being able to apply up to 4 wire stitches to each booklet (including loop stitches), the Smart-binder can also be specified to saddle-bind using IBIS's unique Individual Sheet Gluing system which offers a superior booklet binding method. ISG glued signatures may be automatically collected and fed into a perfect binder without the need to mill away the spine, thus creating a much stronger final product.


The Smart-binder can be equipped with a vast array of options to allow on-line and off-line finishing of digital print.
No other binder comes close to the customisation options that the Smart-binder offers. These options include:
wire stitching (including loop stitches)

pile feeding (with optional trolley loading)

operation in-line with digital presses (with sheeter)

operation near-line from roll unwinders

cover insertion and/or page insertion

individual page perforation

barcode verification and tracking (including 2D datamatrix)
and a range of final trimming options.

If you are fortunate enough to already own a Smart-binder, many of the options are available to be fitted retrospectively to your machine at your site.

If you would like to know how the IBIS Smart-binder could become the most useful tool in your toolkit, or would like to receive literature and samples from the Smart-binder, please do not hesitate to contact your local IBIS team member shown below.


Yours sincerely,
John Cracknell
Managing Director
IBIS Bindery Systems
www.ibis-bindery.com