IBIS has installed a new in-line binding and saddle-stitching solution for a government printer in Rome. This customized installation - the only one of its kind in the world -provides automatic 'on the run' switching between and Saddle-stitched books and Perfect-bound books, without pausing the printer.

The finishing system runs in-line with an Océ JetStream 2200 ink-jet CF printer at 150 metres/min and with lightweight 60gsm paper.

Print companies expect to receive a total package solution to meet their requirements. We specialize in providing these customized systems. We frequently create bespoke and optimized solutions for companies around the world by integrating finishing modules from different suppliers.

This successful project in Rome is an example of what we can achieve in partnership with a digital-printer manufacturer and other finishing suppliers.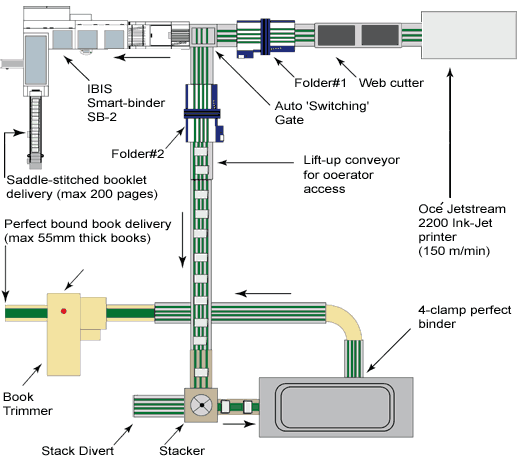 Key system features:
150 m/min printer web speed.

On-the-run switching between A4 saddle-stitched booklets and A4 perfect bound books.

Saddle-stitched booklets containing 16 - 200 pages (variable on the run).

Perfect-bound books from 10 - 55mm thickness (variable on the run).

Lightweight 60 gsm paper


The new Smart-binder 'Plus' has an increased output rate of 7,000 booklets/hour (14,000 in 2-up mode) to allow production of booklets with low page count at maximum possible printer web speed.

We are proud to deliver innovative world-class systems that provide tangible return on investments for our growing customer base. Contact us to discuss how IBIS's finishing solutions can address your specific requirements.

John Cracknell
Managing Director, IBIS Bindery Systems