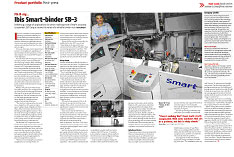 This PrintWeek 'Me and My' feature, which also appeared online, focused on the benefits which the leading UK printer 'DST Output' has found from investing the IBIS Smart-binder SB-3. DST Output was described as a company with "long history and strong reputation for preserving the integrity of transactional printing".

"It's been performing excellently, especially when you consider we run around 50,000 books a week on it," reported Steve Ware, head of Digital Print at the East London-based print giant that has five sites and a £140million turnover, before concluding: "The SB-3 has ticked all the boxes for us ..."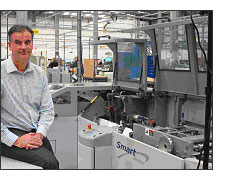 The PrintWeek article refers to the range of applications that can be delivered by the IBIS Smart-binder SB-3, for which "nothing short of 100% accuracy" is essential. It also highlighted how the Smart-binder would be just as at home within a smaller print business as it is as part of DST Output's extensive operations.

DST Output's experience is another example of how our customers are provided with a total bespoke solution, not just a machine. Already we've had several follow-up calls from prospective customers wanting more details on what was accurately described in the article as a "..'very productive machine', performing excellently and reliably."

John Cracknell
Managing Director, IBIS Bindery Systems
.