IBIS has provided a game-changing solution for R+V, one of Germany's largest insurance companies, which produces more than a million highly-personalised insurance policy booklets at its headquarters in Wiesbaden. These policies are made using IBIS's Smart-binder SB-3 which is fitted with the unique and patented ISG (Individual Sheet Gluing) system. The ISG binding technique is chosen by R+V because of its ability to produce booklets up to 10mm thick which lay flat (for envelope inserting) and for the additional page security which this gluing process provides.

After seven years of successfully using the original IBIS Smart-binder SB-3, with excellent maintenance and support from Kern GmbH, R+V has now ordered a new Smart-binder SB-3 'Plus' system via Kern which will be fed from a new high-speed Kern roll unwinder and web cutter. This new Smart-binder Plus will 'raise the bar' for R+V, by providing a 30% increase in productivity while continuing to produce high quality personalised (digitally printed) policy documents containing between 4 and 180 pages, with a separately fed cover.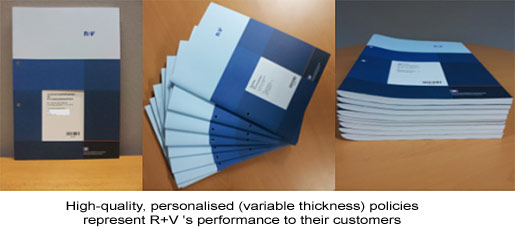 "We first took an IBIS in 2005 as part of a major rebranding exercise," explains Christoph Hees, Head of the Print Centre for R+V, "This included improving the face of documents and policies to bring more worth and value for our customers. There were a lot of steps to reach this goal and the IBIS (Smart-binder SB-3) has been an important component. It provides integrity and security through individual sheet gluing, which also looks much better than wire stapling. We are now able to produce good looking policies for our customers at high speed and with high value. The new IBIS (SB-3 'Plus' model) will enable us to increase productivity by 30% , and further improve our ability to personalise insurance policy documents. The IBIS has been working extremely well for the last seven years, so we know we are taking no risk with a further investment in this world-leading technology, which also interfaces effectively with other machinery"

The R+V system is another example of how IBIS supplies bespoke world-class solutions. John Cracknell, Managing Director of IBIS, said: "We specialise in providing highly customised solutions, including integrating modules from different suppliers, which give tangible returns on investments for companies across the globe. Our Smart-binder system creates flat policy documents that can be easily 'inserted' by using our unique ISG cold gluing system. The number of pages in the booklets is constantly varied without pausing the binding process. The Smart-binder at R + V produces policies containing from four A4 sheets right up to 180 pages (approx 9 - 10mm thick). No other system in the world can do this.
IBIS has built its reputation on providing unique solutions for a diverse range of companies including larger insurance companies such as R+V. We are delighted to receive R+V's endorsement of the Smart-binder's success in the form of the new SB-3 'Plus' machine order."




Key Smart-binder SB-3 'Plus' system features for R+V:
Smart-binder SB-3 fed directly from a high speed Kern roll unwinder and web cutter
30% increase in productivity.
Optional sheet pile feeder on the side.
Cover feeder with new-design Auto-loader and ability to feed covers with 'windows'
ISG cold-glue binding used for all booklets.
Bar code control of page sequence for variable booklets.
3-knife trimmer with new high-speed transport.
In-line Duerselen system for drilling two or four 'file holes' in each booklet.
Contact us to discuss how IBIS's finishing solutions can address your specific requirements.

John Cracknell
Managing Director, IBIS Bindery Systems