We are pleased to announce the launch of a new
higher-performance
version of our Smart-binder product for production of variable page-count, digitally-printed booklets and books.
At Drupa last year the IBIS Smart-binder made a leap in productivity by increasing maximum output speed to
7,000 booklets/hour
(or 14,000 booklets/hour in 2-up mode). Now IBIS has announced the launch of the new
Smart-binder 'Plus HS'
model which can also process sheets in
4-page increments
at web speeds up to
200 metres/min
(with extra dynamic buckle-folder), or
130 metres/min
(without buckle folder). This represents a large input velocity increase over previous models.

The new 'Plus HS' model allows much higher throughput, while retaining '4-page increments' which eliminates the need for unnecessary
extra 'blank' pages
when running at high speeds. The need to "pad out" booklets with extra un-printed pages contributes to both paper waste, and increased postage costs.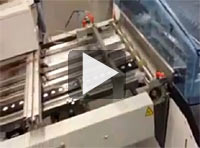 Click the video link image to left to view a short video of the
Smart-binder producing 120+ page saddle-stitched booklets from an unwinder-cutter at over 130 metres/min
, with plow-folding only (no buckle-folding) and 4-page sheet increments.
The Smart-binder 'Plus HS' folds sheets individually and provides integrated sheet and booklet tracking systems for
true variable-data
production output. The number of pages in consecutive booklets can be continually
varied on-the-run
under bar code control. Smart-binder models SB-3, 4 and 5 include IBIS's unique and patented
(ISG)
cold-glue binding process , which replaces the need for conventional wire-stitching. Models SB-4 and SB-5 include also in-line
perfect binding
.
IBIS continues its tradition of system improvements and the evolution of the Smart-binder to meet customer demand
For further technical and application information go to
www.ibis-bindery.com
John Cracknell
Managing Director
IBIS Bindery Systems