The new
IBIS Smart-binder SB-3 Plus
, which has provided a game-changing solution for R+V, one of Germany's
largest insurance companies
, has been featured in Postmaster-Magazin, one of Germany's top specialist publications covering finishing systems.
In the monthly magazine's Mailing and Mailroom section, the spotlight was on how IBIS has helped R+V in a story that ran over one-and-a-third pages. Three photographs were part of the feature, including two of the IBIS system that has been repainted in red/gray colors as requested by Kern/R+V.
R+V has been using IBIS's older model Smart-binder SB-3 during the last 6 years, with excellent maintenance and support from Kern GmbH. This has helped R+V to produce more than a million highly-personalised insurance policy booklets at its headquarters in Wiesbaden. Fed from a high-speed Kern roll unwinder and web-cutter, these policies are made using IBIS's unique and patented
ISG (Individual Sheet Gluing)
system. The ISG binding technique is chosen by R+V because of its ability to produce booklets up to 10mm thick which lay flat (for envelope inserting) and for the additional insurance policy 'page-security' which this gluing process provides.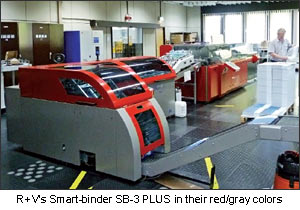 A new model
'Smart-binder SB-3 Plus'
has recently been installed to replace the older machine and to 'raise the bar' for R+V by providing a
30% increase in productivity
. This new system produces high quality personalised (digitally printed) policy documents containing
between four and 180 pages
, with a separately fed cover.
As a specialist supplier to digital print finishing systems we can provide distinct benefits for our customers . The processing of ISG glue binding, as used by R+V and many other IBIS customers, allows continual variation in page content without stopping or pausing the sheet flow, up to maximum booklet thickness of 10mm. "No other system in the world is able to do this."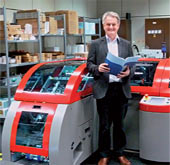 Christoph Hees, Head of the Print Centre for R+V
expressed his satisfaction in the article, pointing out that it is essential that all documents they produce have to make a 'valued quality impression'. And it has also stopped fraudulent manipulations, which has been the case sometimes in the past. "Since we have been using integrated gluing we never had a doubtful case," said Mr Hees. "We do not glue single pages but a full booklet that can only be torn apart by force. Such a manipulation attempt would necessarily be detected - a fraudster realises this and does not even try."
Key Smart-binder SB-3 'Plus' system features for R+V include:
- Feed directly from a high speed Kern roll unwinder and web cutter
- 30% increase in productivity
- Cover feeder with new-design Auto-loader and ability to feed covers with 'windows'
- ISG cold-glue binding used for all booklets
- Bar code control of page sequence for variable booklets
- 3-knife trimmer with new high-speed transport
- In-line Duerselen system for drilling two or four 'file holes' in each booklet

High-quality, personalised (variable thickness) policies, made on the IBIS Smart-binder 'SB-3 Plus' represent R+V 's commitment to their customers:

For further technical and application information go to

www.ibis-bindery.com

John Cracknell

Managing Director

IBIS Bindery Systems