IBIS has installed around 30 Smart-binders around the world for producing examination booklets, and we have recently received orders for five more machines. This makes us indisputably the 'number-one' supplier for high security production of exam booklets in-line with digital printers.

1) Europe: Multiple IBIS Smart-binders each produce 50 million exam booklets and result in additional orders

A prestigious printer in Europe already has six Smart-binders producing examination papers in-line with digital printers. These Smart-binders include additional sheet and booklet tracking controls for extra booklet security. The output of each of these Smart-binders often exceeds one million booklets per month. One of these Smart-binders has now produced 50 million stitched and trimmed exam booklets (an impressive milestone!) and two others have produced close to 50 million.

That's a lot of students, around the world, who are sitting exams using booklets made on an IBIS Smart-binder. These students don't have time to think about how their exam booklet was manufactured, but we are proud to have played our part in enabling them to further their education!





This printer will continue using their six existing Smart-binders and has now ordered a seventh new Smart-binder (new high performance 'PLUS HS' model) to produce 6,500 exam booklets/hour in-line with a CF printer at web speeds of 100 metres/min.

The eighth Smart-binder is expected to be installed at this same site by the end of 2014.

2) Africa: Three in-line IBIS Smart-binders for exam paper printing

Three Smart-binder systems have recently been ordered to produce exam papers in-line with CF web printers (with optional feed from pre-printed rolls at up to 180m/min). Our sheet rotator and folder (option RF-100) allows also for A5 size booklets (in addition to A4) without reducing web width. A BSS-11 booklet stacker on the delivery produces booklet stacks up to 33cm high.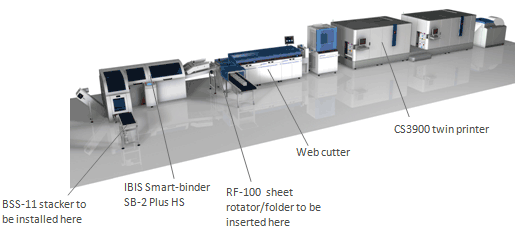 3) Turkey: First IBIS Smart-binder now installed at Meteksan, Ankara for exam paper production

The first Smart-binder is now installed at Meteksan in Ankara in-line with a Canon Continuous Feed printer and Hunkeler web cutter. This system will shortly commence tests and live production of examination papers at Meteksan, following which further IBIS systems are expected to be required.




For more information please don't hesitate to contact me.


John Cracknell, Managing Director
IBIS Bindery Systems