IBIS Perfect-binding options - Book trimmer CMT-330
Back

Other Perfect-binding Options
The CMT 330 three-knife trimmer finishes soft-cover, perfect bound books at a rate of up to 400 cycles per hour. Designed for on-demand printing, it can be used in-line with perfect binders or near-line in a manual-feed mode. By trimming 2-up or 3-up, books may be processed at a rates of 800 or 1200 books/hour.
In-line version CMT-330 (for direct feed from a perfect binder)
The CMT-330 3-knife trimmer is offered for use after a perfect binder in order to cut books to required finished format size. The in-line version shown above connects directly to the perfect binder outlet, and includes a multi-stage book cooling elevator to allow time for the hot-melt glue to cool before trimming.
The CMT-330 has a maximum book thickness limit of 51mm (2").
CMT-330 Features and Specifications
Trimmed Book Sizes: 4" x 6" to 9" x 12"; up to 2" thick
Available with In-line or Near-line Configurations
Full Digital Control for Fast, Accurate Changeovers -Knives and Clamps Reposition in 15 Seconds
Requires No Special Tools or Clamp-boards when Changing Book Sizes
Computer-Controlled Servomotors Adjust Knives
Easy to Use and Program
Light-Touch Electronic Keypad
Menu-Driven LCD Data/Graphic Screen
99-Job Memory
Computer Diagnostics
Minimal Maintenance Requirements
Hydraulic Cutting
Adjustable Clamp Pressure
Adjustable Pneumatic Gripper Pressure
Rugged Construction
UL Listed (USA and Canada)

Full Digital Control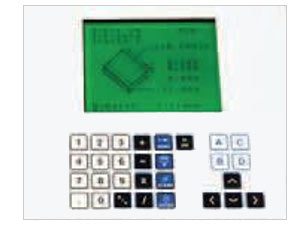 The CMT 330 features full digital control of the trimming process, which results in significant time savings over traditional trimmers. Just key in the starting size and the finished size, and the computer-controlled servomotors automatically adjust knives and clamps to the correct positions in only 15 seconds.
The CMT 330's control panel includes a menu-driven LCD screen that makes setup very easy. It summarizes job names, displays programming, and lets you direct other machine functions. A light-touch electronic keypad allows easy programming in decimals, fractions, or metric equivalents. Cursor controls and four selection keys speed navigation through other machine functions.
The CMT 330 can store up to 99 jobs in its memory for even faster setup. A serial communication port permits remote setup and control for in-line use in fully automated bookshop environments.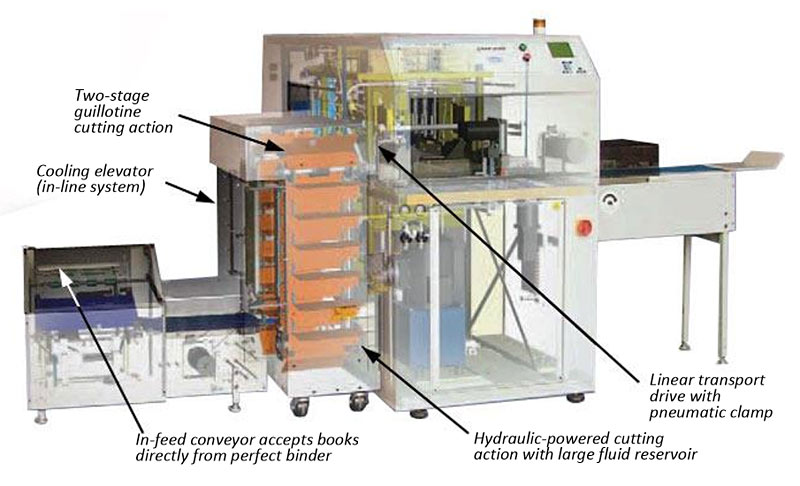 Designed for Safety and Convenience
Knives are easily accessible for fast, efficient changes. For added safety while changing knives, a custom designed guard shields the knife edge.
Infrared sensors monitor each of three waste bins and generates a display on the control panel when a bin is full.
Levelling feet provide greater stability, and are adjustable to help compensate for uneven floors.
A multi-station cooling elevator (for in-line systems) allows ample glue set-up,cooling, and drying time before books are trimmed.
Built to Last
The CMT 330 features solid construction and requires minimal maintenance. A steel frame, large hydraulic cylinders, and heavy-duty components help ensure long life. Hydraulics offer low-maintenance, trouble-free operation.
Capable and Reliable
The CMT 330 offers convenience, efficiency, and durability.
CMT-330 Inline Configuration with Cooling Tower