IBIS Perfect-binding options - Three knife book trimmer TR-30S
Back

Other Perfect-binding Options

The book trimmer TR-30S may be used In-line or Off-line with IBIS perfect binders. The trimmer may be hand fed, or fed directly from a conveyor connected to a perfect binder.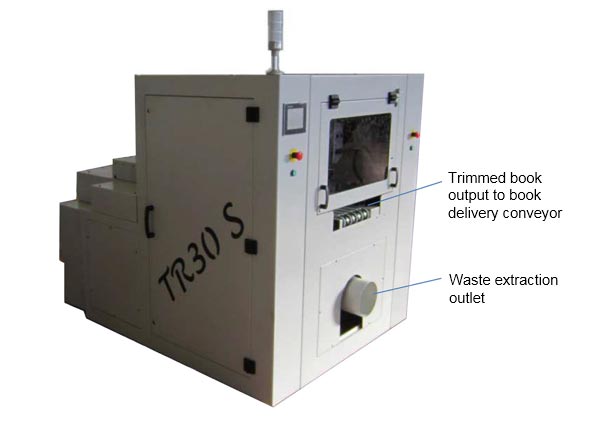 Heavy Duty construction: Very heavy duty design and build -- for 7 x 24 hr continuous operation
Automatic adjustment: Allows for book thickness to constantly change from book to book (automatic on-the-run adjustment). No parts need to be changed and knives do not need to be moved when changing book size.
Speed: Up to 600 trim cycles/hour (1200 books/hour when trimmed in piles of three books)
Book quality: High quality 3-side trimmed finished books
Video: View a video of the TR-30S in operation HERE
TR-30S: Other technical data:

| | | |
| --- | --- | --- |
| Min book size | Untrimmed (A x B) | 155 x 105mm |
| Min book size | Trimmed (A x B) | 150 x 100 mm |
| Max book size | Untrimmed (A x B) | 365 x 325 mm |
| Max book size | Trimmed (A x B) | 350 x 320 mm |
| Min book thickness | C | 3 mm |
| Max book thickness | C | 60 mm |
| Weight | | 3000 kg |
| Electric Power | | 12 Kw - 30A 400 V + N + T |
| Air Connection | | 6 Bar |