Other options Download BSS-30 PDF Data Sheet Flow chart showing all options
Book stacker BSS-30
The BSS-30 book stacker allows non-stop Smart-binder operation without the need for the operator to continually have to remove books from the delivery conveyor. Books pass through the standard Smart-binder delivery conveyor into the BSS-30 stacker where they collect into piles up to 160 mm high. The number of books in each pile is selectable by the machine operator.
Book piles are delivered onto a roller table where they accumulate until removed by the operator. In-line (or off-line) pile 'banding is also available.
Book stack delivery
Book or signature entry
from the SB delivery
Completed stacks contain booklets (or signatures) with spines all orientated in the same direction. An alternative version of this stacker is available with an additional automatic stack reject facility. This ejects any bad stacks in one direction (stacks which do not contain the correct booklets of signatures in the correct sequence) and delivers all good stacks in a different direction. This version stacker includes a code reader to read incoming booklets or signatures.
If making book blocks for perfect binding, then a cold glue applicator may be added which glues the signatures inside each book block. This may be used to aid the transportation of these book blocks into a perfect binder.
BSS-30 stacker specifications (2 versions available with different widths)
alpha
500plus
Formate:
min
1 up max
2 up max (optional)
3 up max (optional)
Infeed width
80 mm (3 1/4")
510 mm (20")
235 mm (9 1/4")
150 mm (6")
Infeed length
95 mm (3 3/4")
330 mm (13")
330 mm (13")
330 mm (13")
alpha
700plus
Formate:
min
1 up max
2 up max
3 up max (optional)
4 up max (optional)
Infeed width
80 mm (3 1/4")
760 mm (30")
350 mm (13 3/4")
235 mm (9 1/4")
155 mm
Infeed length
95 mm (3 3/4")
330 mm (13")
330 mm (13")
330 mm (13")
330 mm (13")
Max stack height
160 mm
Min stack height
3 mm
Speeds
15 - 205 m/min
Performance
900 stacks per hour per up-work
Electrical connection
16 A, 400/230 v, 3.5 kw
Compressed air consumption
Signal connection is MBO 24 pin as standard
100 l/min net, 6 bar (with air blast device 250 l/min)
Dry filtered air on site

BSS-30 Floorplan, showing optional stack reject lane
(BSS-30 may be to the left as shown below, or to the right) :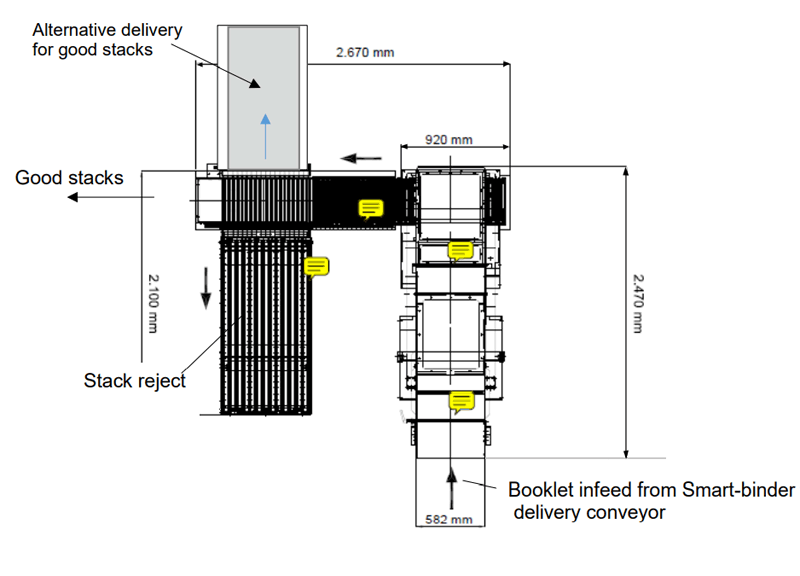 BSS-30 with Optional Stack Reject
(shown below with delivery to the right, but may be provided also with delivery to the left):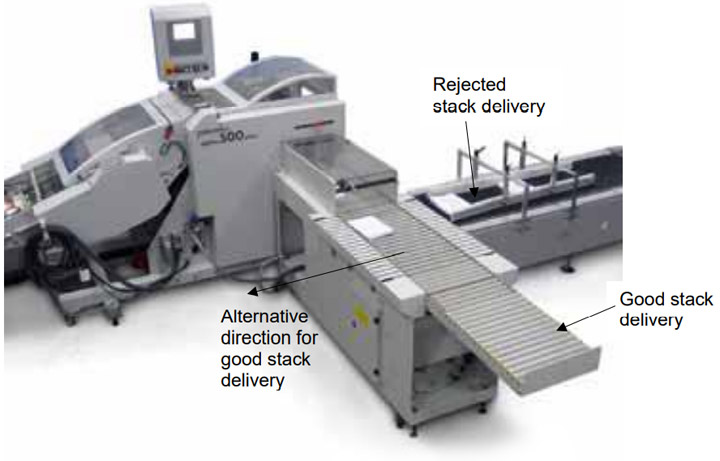 The above image shows good books being delivered 'head leading' , but an alternative configuration can deliver good books in a different direction if preferred.