Other options Download DES-100 Data Sheet Flow chart showing all options
Document edge sealer DES-100
TheDES-100 document Edge Sealer module may be connected directly (in-line) to the end of the Smart-binder delivery conveyor.
Booklets are made on the Smart-binder with a cover width greater than the inside sheet width.

The upper cover is lifted up by the DES-100 vacuum opener device and hot melt glue is applied to the inside edge of the lower cover using the Robatech nozzle (Concept B5/2-ASIK40/2-SX1S Diamond)

The upper cover is then closed again and pressed onto the glued lower cover in order to seal the booklet.

Cover feeder
IBIS Smart-binder
Sheet input
Smart-binder
trimmer
Saddle-stitched
or spine-glued
booklets from
the IBIS Smart-binder
Vacuum belt cover opener
Robatech hot melt glue gun
DES-100 Edge
sealer module
1875 mm
Finished 'sealed' documents
delivered into optional delivery 'tray'
After being edge sealed the booklet may only be opened by 'tearing' the sealed foredge. The DMP-100 dynamic perforator may be used to perforate the cover to allow the glued edge to be more easily torn off, if required. Alternatively a type of glue may be used which allows the booklet to be 'peeled' open.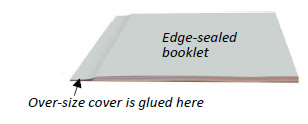 The edge sealing process may be used to secure confidential documents containing sensitive information (such as exam papers) so that these documents cannot be easily viewed without leaving evidence that the document has been tampered with. It may alternatively be used to allow booklets to be self-mailed without opening up in the postal system.
DES-100 specifications
Length: 1875mm, Width: 830mm
Max Speed: 100 m/min
Max book processing rate : 100 books/min
An optional booklet delivery tray is available (or may deliver to optional BSS-10 stacker)
Controls: 2 x on/off pushbuttons for main motor and vacuum pump + 2 x E stops
Elect supply: 230 V, 50/60 Hz, 10 Amps
Glue applicator : Robatech Concept B5/2-ASIK40/2-SX1S Diamond + photocell + pattern controller
Air requirement : dry air @ 6 bars (90 PSI)