IBIS Smart-binder options - Sheet pile loading trolley PLT-100
Back

All Commonly Supplied Options

Other Options
The IBIS pile loading trolley PLT-100 provides a fast and simple way to load large piles of sheets into the off-line Smart-binder sheet-feeder SB-095. It may be used with all off-line version Smart-binders (or in-line Smart-binders with SB-096 pile feeders onoff-line Smart-binder sheet-feeder the side). The PLT-100 trolley system reduces the pile reload time from about 3 minutes to about 35 secs and thereby increases the overall Smart-binder running efficiency by about 10%.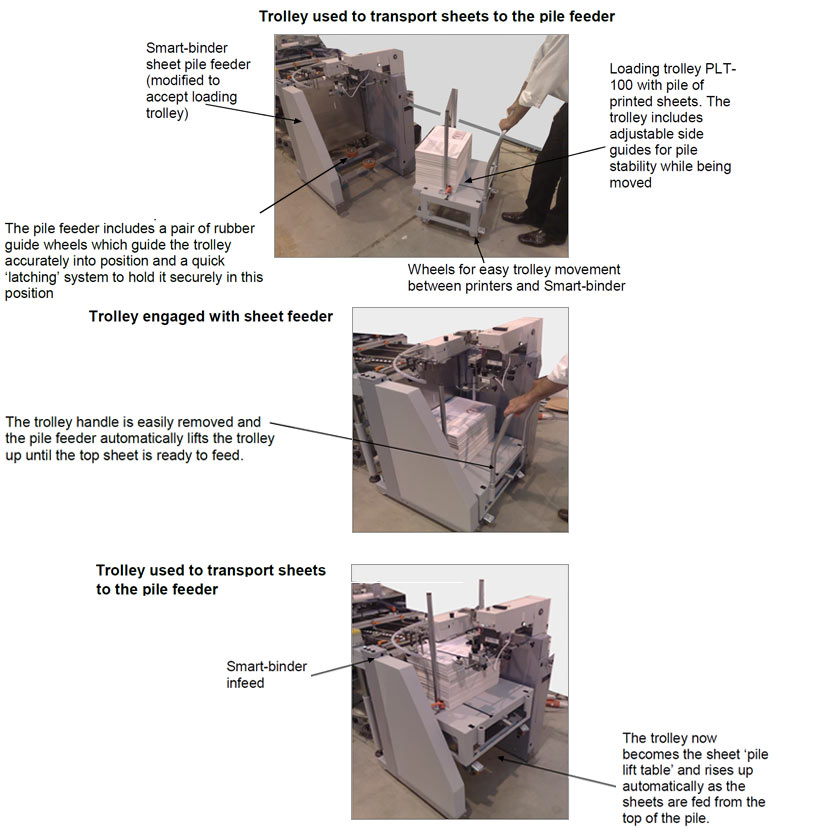 It is recommended that at least two loading trolleys are used per Smart-binder. Trolley #2 can be loaded with the next pile of printed sheets, while Trolley #1 is engaged with the feeder and feeding sheets into the Smart-binder.
If Trolley #2 is already loaded with the next sheet pile, then the Smart-binder 'stop' time to reload is only about 35 seconds. This increases the Smart-binder system output by about 10%.
All existing off-line Smart-binders may be upgraded with the PLT-100 loading trolley system, after modifications have been made to the sheet pile feeder. Allow two days for an IBIS engineer at a customer site to modify the pile feeder, install the loading trolley, test operation and complete operator training.