Other options Download SB-096 Data Sheet Flow chart showing all options
Additional sheet pile feeder SB-096
The SB-096 feeder assembly is available as an alternative to the SB-097 sheet pile feeder a second side-fed SB-096 sheet pile feeder is available. The SB-096 comprises a high pile feeder (similar to the SB-095 but with independent drive and bridge conveyor, named a SB-095D) together with a roller table to change the sheet direction. The roller table may also be used to conveyor sheets coming from upstream, without direction change, either from a web cutter or another independent SB-095(D) feeder.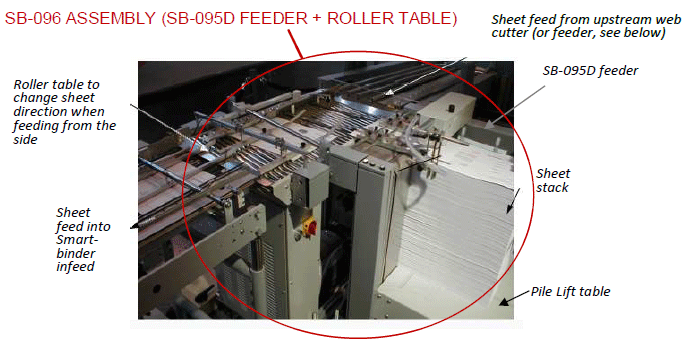 The roller table adds 1180mm to the length of the line. A few minutes changeover time (to move sheet guides) is needed to change between in-line and off-line operation.
Sheet feed onto roller
table (included with
the SB-096) which
feeds onto Smart-binder
infeed conveyor
Sheet stack
Rear edge
vacuum separator
Pile lift table
The SB-096 may be used in combination with another SB-095D if two independent feeders are required (see case study L & R Testimonial (ibis-bindery.com)
Smart-binder Plus HS
Optional cover feeder CIF-102
SB-095 sheet pile feeder
Sheet stack
SB-095D sheet pile
feeder on the side
SB-096
assembly
The SB-096 feeder may be loaded with piles of pre-collated sheets and optional loading trolley options PLT-100 and HPL-100 are available to assist loading The maximum pile height is approx 550mm (21.65") but actual pile heights depend on a number of factors including the amount of toner used (the top sheet must remain relatively flat).
The SB-096 feeder must be stopped to reload the pile. Allow about 5 mins to reload without using the optional loading trolley, or approx ½ min if using a loading trolley. Each sheet should have a bar code printed on the edge.
The max sheet feed rate from the SB-096 side mounted feeder is approx 250 sheets/min due to the need to change sheet direction on the roller table. When feeding sheets from the SB-096 then the feed rate is limited by the rate at which the sheets can change direction on the roller table.