IBIS Smart-binder options - Sheet pile feeder for dedicated off-line operation SB-095
Back

All Commonly Supplied Options

Other Options
The direct connected pile feeder SB-095 is available to allow a Smart-binder dedicated off-line operation and is used to feed all 'off-line' Smart-binders. The feeder is loaded with piles of pre-collated sheets and an optional loading trolley system (PLT-100) is available to assist loading.
Trolley #2 can be loaded with the next pile of printed sheets, while trolley #1 is engaged with the feeder and feeding sheets into the Smart-binder. This reduces the Smart-binder reload time to about 35 seconds.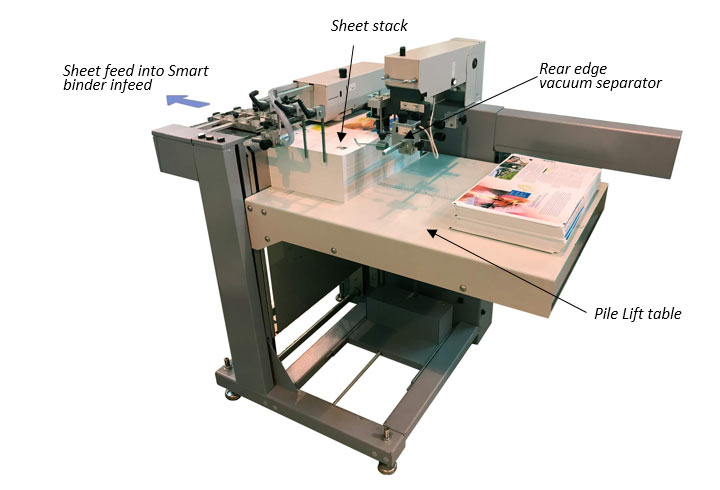 The maximum sheet pile height is approx 700mm (27.5") , but actual pile heights will depend on a number of factors including the amount of toner used (the top sheet must remain relatively flat).
Sheet feed rates up to approx 400 - 450 sheets/min are achievable providing paper weight is not too light and sheets are in good condition.
Sheet stock weights in the pile may vary by up to a factor of about 'two'. This mean for example that the pile may contain 160gsm covers mixed in with 80 gsm 'content' sheets. Greater stock weight variations may be possible but require testing to establish feed reliability.