December 2014


IBIS to unveil new Smart-binder features at Hunkeler Innovation Days - February 2015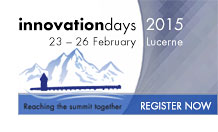 IBIS is delighted to announce its participation in the Hunkeler 'Innovation Days' (HID) exhibition at the Allmend fair and event centre in Lucerne,Switzerland, from 23-26 February 2015.

At this important trade exhibition we will show the latest model IBIS Smart-binder SB-3 'Plus HS' on the Canon stand, running in-line with a high-speed continuous-feed inkjet printer and web cutter.

Two innovative new Smart-binder features have been developed in response to customer demand to run variable-data jobs with booklet thickness (number of pages) continually changing. These will be shown for the first time at HID:

1/ ASA-100 Automated Stitch Adjust system. This enables the Smart-binder stitcher to continually and automatically adjust the wire staples to perfectly suit the thickness of each booklet being stitched. This system has been created in response to our customer's needs to handle complex, variable-data jobs in which the number of pages in the booklets is constantly changing.

2/ SBS-100 Sheet Buffer module. This will be installed in between the web cutter and the Smart-binder. The SBS-100 buffer receives printed sheets at a constant rate from the web cutter (defined by the printer speed of 127 m/min), store these sheets and feed them at variable rates into the Smart-binder depending on the number of sheets in each booklet. The SBS-100 enables very thin booklets (for example 8 pagers and even 4-page single sheets) to be mixed with thicker booklets while maintaining a constant, high printer web speed. It even allows the in-line Smart-binder to stop and restart if necessary without pausing the printing operation. This SBS-100 buffer module enables our customers to benefit from in-line finishing, without reducing the printing efficiency.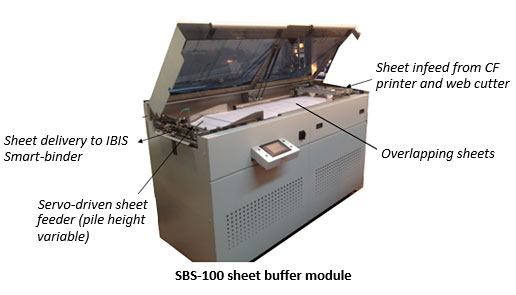 At HID we will also demonstrate the Smart-binder SB-3's unique and patented ISG cold-glue process, as a high-quality binding alternative to wire stitching.

Hunkeler Innovation Days 2015 is the leading event for 'trend-setters and technology leaders' who set the pace for the next stage of industry innovation. Visitors will experience highly efficient end-to-end workflows, from software to finished books, from idea to solution.

The printing sector is changing at a rapid pace, and IBIS is delighted to demonstrate its latest innovations and be part of this internationally important show, together with thousands of experts and decision-makers.

Our latest IBIS technical advances will further demonstrate how our customers can benefit from the economies and advantages of digital printing and finishing processes, for an increasing range of diverse client segments and applications. Free registration for HID is available:
innovationdays.hunkeler.ch/

To book an Smart-binder demonstration, or make an appointment, please contact me at +44 1494 561950 or e mail john.Cracknell@ibis-bindery.com

We look forward to seeing you in Lucerne!

John Cracknell, Managing Director
IBIS Bindery Systems UK